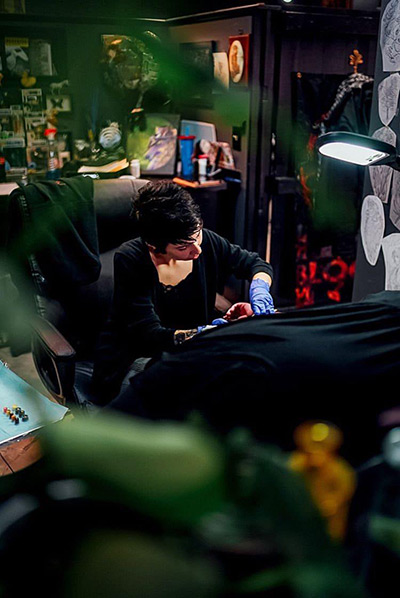 Leah is not currently booking new projects. Follow her on Instagram for updates.
Leah's Work
About Leah Marie
Leah Marie, a Cincinnati native, grew up in the Fairfield area and currently resides on the westside of Cincinnati with her family.
She's been drawing (presumably on things other than paper) since before she can remember. Her commitment to art began in her early teens when she started working with watercolors, oils, and digital painting. Her fascination with tattooing as an art form began when her friends started to get tattooed.
"Once I got my first tattoo and had a taste of the environment, I knew someday I'd be a tattooer myself."
Shortly after completing her bachelors degree in Commercial Arts (Illustration), she started an apprenticeship at the shop where she got her first tattoo. Her training lasted about a year before she was thrown to the proverbial wolves and began tattooing professionally.

Some of the tattooers that she admires include: Teresa Sharpe, Justin Hartman, Aimee Cornwell, Lynn Akura, Jeff Gogue, Kelly Doty, Dean Kalcoff, Miryam Lumpini, Jeff Snow, Cody Eich, Jonathan Penchoff, Gia Rose, Liz Cook, to name only a few.

Other non-tattoo artists she draws inspiration from are: Jennifer Healy, Lauren Marx, Takato Yamamoto, Alphonse Mucha, Rockin Jelly Bean, Kaori Yuki, Jamie Hewlett, Heather McLean.
Leah enjoys tattooing black-and-white and full color equally, and her favorite styles to tattoo are: illustrative, neo-traditional, and realism.